This post may be sponsored or contain affiliate links. All opinions remain our own.(Full disclosure)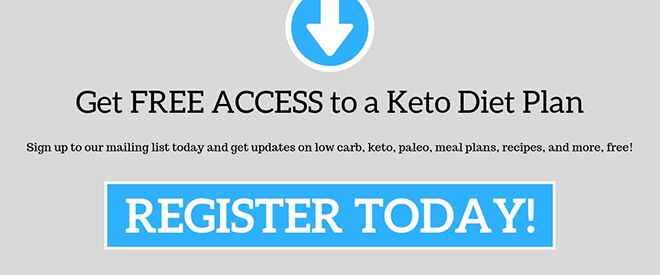 There are many variations of broccoli and cheese soup recipes from low carb to vegan.
Recipes have a tendency to use flour to thicken the soup plus many other additional ingredients.
Today we have a simple and easy keto version of broccoli cheese soup that you can make in under half an hour.
This warming broccoli recipe uses xanthan gum powder as well as some heavy cream to help thicken the soup to give a creamy texture.
So easy and perfect for increasing the fat on a ketogenic diet. Per serving the recipe has 12.5g carbs, 21g protein, and 51g fat to keep you satiated until your next meal.
It develops the flavor but to reduce the carb count in this soup recipe you can omit the onion and garlic to keep the sugar content low.
You want to make sure to use high quality freshly grated cheddar cheese.
Do not use pre-shredded kinds of cheese as it can contain anti-clumping agents that keep the cheese separate in the bag.
It makes it difficult for the cheese to melt smoothly and efficiently at the end of the recipe.
By keeping low carb recipes simple, it will oftentimes mean you are making healthier food choices.
So grab some fresh broccoli and let's make a healthy keto friendly, tasty broccoli and cheddar cheese soup.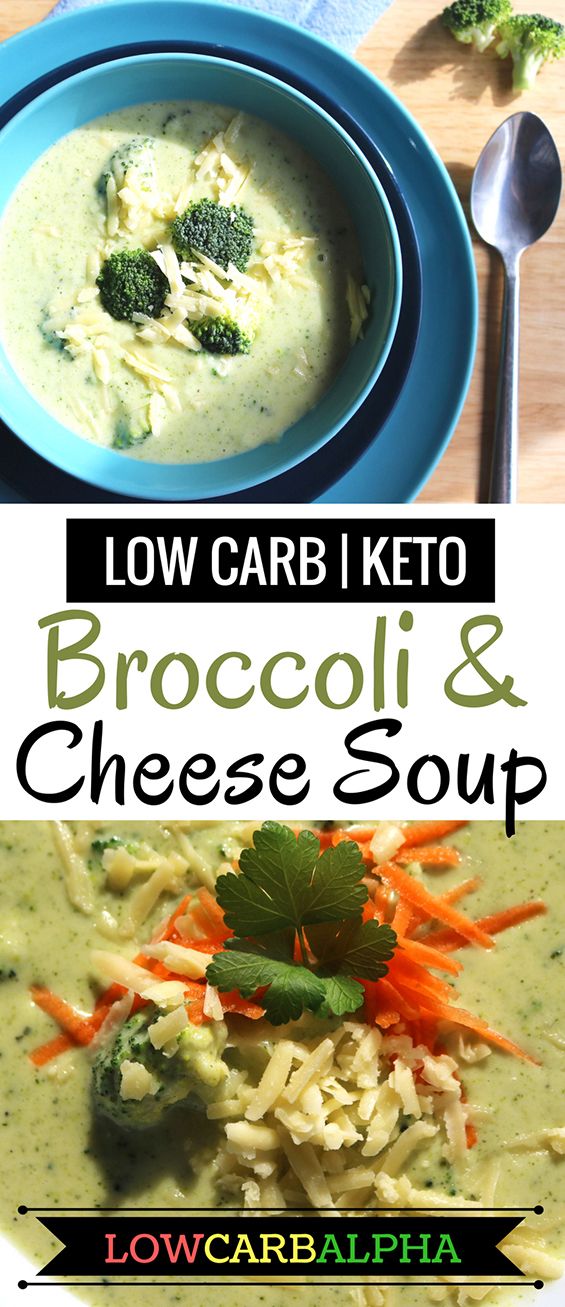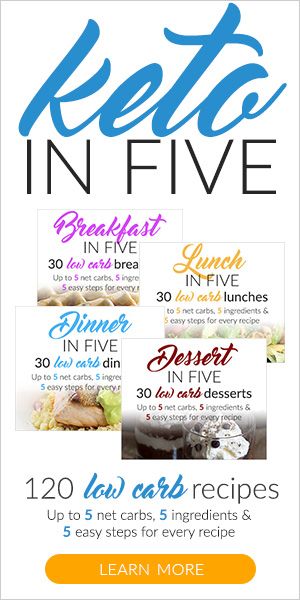 Keto Broccoli and Cheddar Cheese Soup
Ingredients
5

Cups

Broccoli 480g

4

Cloves

Garlic

Minced

3 ½

Cups

Vegetable Broth

Or Bone Broth 750 ml

1 ¼

Cup

Heavy Cream

Or Heavy Whipping Cream

3

Cups

Cheddar Cheese

2

Tablespoons

Butter

1

Onion

Small

½

Teaspoons

Pink Himalayan Salt

½

Teaspoons

Black pepper

1

Teaspoon

Xanthan Gum
Instructions
Cut the broccoli florets off the broccoli stalk as close to the head as possible. Leave the stems out.

Roughly chop the rest making sure not to waste any of the broccoli.

We are not going to puree the florets as we want to get a chunk of broccoli in every bite of the soup.

Heat a tablespoon of butter or any other kind of fat that you like to add flavor to the soup.

Add one roughly chopped small onion, garlic, and broccoli stalks and fry until it starts to get some color or when the onions have caramelized.

Season with Himalayan 1 tsp pink salt, 1 tsp black pepper, and 1 tsp parsley. You could also add some paprika, cayenne pepper or your favorite seasoning.

After about 5 minutes add vegetable stock.

Simmer for further 5 minutes then transfer into a blender. Blend until thick and set aside.

Using the same saucepan and add a tablespoon of butter and cook the broccoli florets for 5 minutes stirring continuously.

Once the broccoli florets have cooked, pour out the pureed soup that was blended and add 1 ¼ cups or 300ml heavy cream.

Stir and add one tsp of xantham gum, and 3 cups of your favorite grated cheddar cheese stirring non-stop.

Let it cook until the cheese has melted and it's all one delicious creamy mixture then serve.
Recipe Notes
To make this keto broccoli soup heartier, replace the vegetable stock with bone broth.
If you experience difficulties with the cheese clumping when adding to broccoli cheddar soup then here are some tips.
Make sure the temperature is not boiling. I turn the stove off and let it sit for a few minutes.
Adding the heavy or whipping cream also cools slightly.
Only add a small amount of cheddar cheese at a time and stir continuously. If you drop all the cheese in one go, it will clump.
If it fails and continues to clump, then place it back in the food processor or use an immersion blender to combine everything.
You can also take out the broccoli florets before adding cheddar cheese to help everything melt and combine better.
If you want smaller pieces of broccoli in the soup, then use a hand blender to make it more creamy. Personally, I want to bite into a nice chunky piece of broccoli.
Let it cook until everything is well incorporated and serve your broccoli and cheese soup in a bowl. Garnish with a little bit of extra cheddar cheese or grated carrots on top.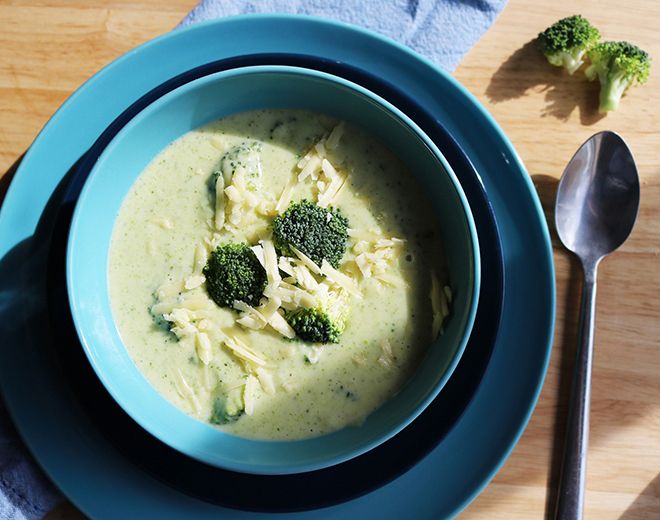 Nutrition Information:
585 calories

12.5 grams of carbohydrate

21 grams of protein

51 grams of fat

32 grams of saturated fat

0 grams of trans fat

3.5 grams of fiber

5 grams of sugar
Let us know how you like the healthy low carb broccoli and cheddar cheese soup recipe and if it turned out well for you.
Check out some of our other recipes to help you hit your macros on a keto diet.