This post may be sponsored or contain affiliate links. All opinions remain our own.(Full disclosure)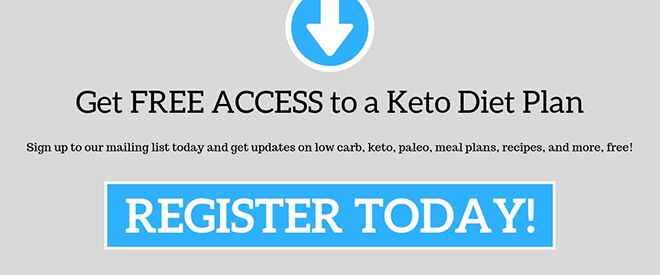 This simple dump and go recipe for cooking keto shredded chicken in a crockpot is one of my go-to meals when I need a quality protein source and healthy fats.
Moreover, it is the most straightforward low carb recipe to prepare and leaves the house smelling amazing!
If you're searching for a recipe to eat with a keto bread or for bulk meal prepping for a few days, this is it.
Preparing this meal with chicken breast is a popular option, but I prefer to use skinless, boneless chicken thighs instead. Either cut of meat will work the same, but eating chicken breast reduces the fat content considerably, whereas the darker thigh meat will supply you with additional fat content.
You may also use a combination of the two, but both are great for a low carb and Paleo diet, but we need all the natural fat we can get on keto.
By cooking boneless, skinless chicken thighs in broth gradually for a long duration in a slow cooker, the meat becomes extremely tender. It will fall apart easily for you to use in your favorite keto recipe.
Also, is it's quite budget-friendly and far more manageable than buying whole chickens, baking, then shredding the chicken for your meals.
The recipe is great for maintaining your daily keto macros and provides zero carbs, 36.5g protein, and 20g fat per serving.
So let make some gluten-free keto-friendly crockpot chicken.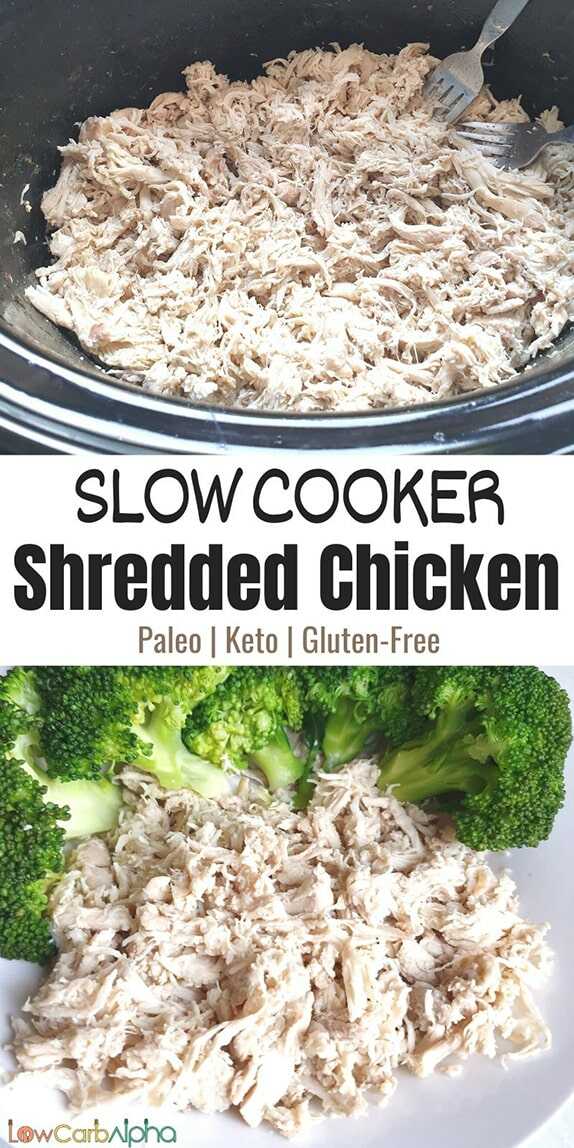 How To Make Low Carb Crockpot Shredded Chicken
So as mentioned previously, this is a simple dump and go slow cooker recipe.
You will need a crockpot, boneless, skinless chicken thighs, chicken broth, and a handful of seasonings spices.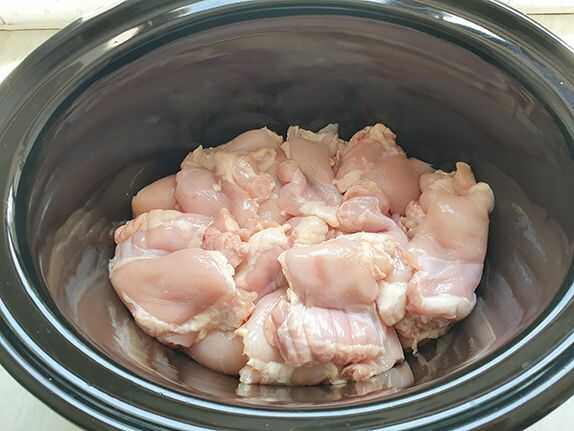 You can use chicken with bones, but it will take a bit longer to cook. It also creates the hassle of removing the bones once it's finished cooking, and there's a chance you may have small bones remaining in your shredded chicken.
Of course, there is no problem using bone-in chicken as it will usually be cheaper, plus you can use the bones to make homemade bone broth.
I have a sizeable 8-liter crockpot that I use for my family, so I tend to cook at least 4-5 pounds. Also, I seldom cook more to help me with meal prepping in bulk for the week. If using a smaller 2-liter or 4-liter crockpot, reduce the quantity of chicken as required.
You will want to use chicken broth as opposed to plain water to add flavor to the meat.
Cook the chicken thighs until tender and begins to fall apart when shredding. The duration would amount to about 6 hours on low heat or 3 hours on high heat.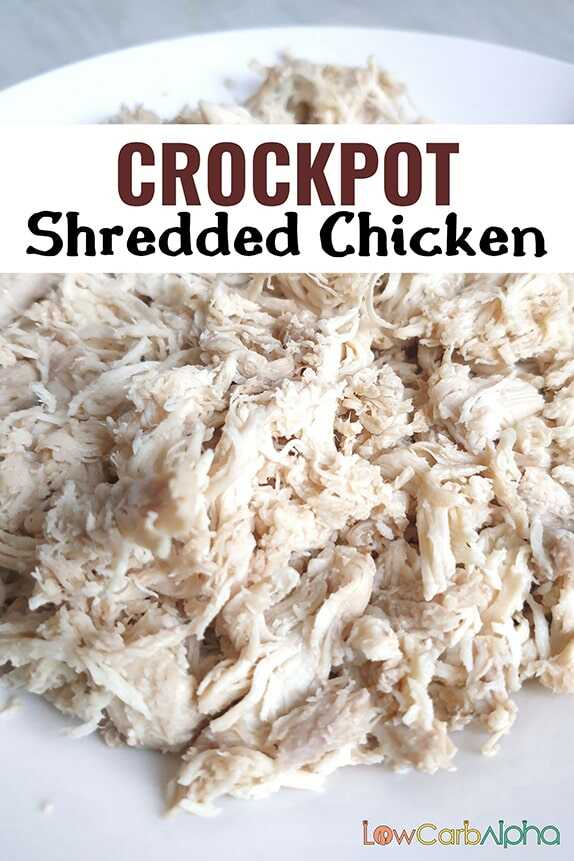 Once finished cooking, let the chicken cool for about 30 minutes. Remove half of the chicken stock and place aside then shred the chicken in the crockpot while warm.
Leaving some stock with the shredded chicken will give it a moist, juicy flavor.
When separating the chicken into meals for the week, I like to use glass storage containers and spoon a handful of chicken and combine with low carb veggies such as celery and broccoli.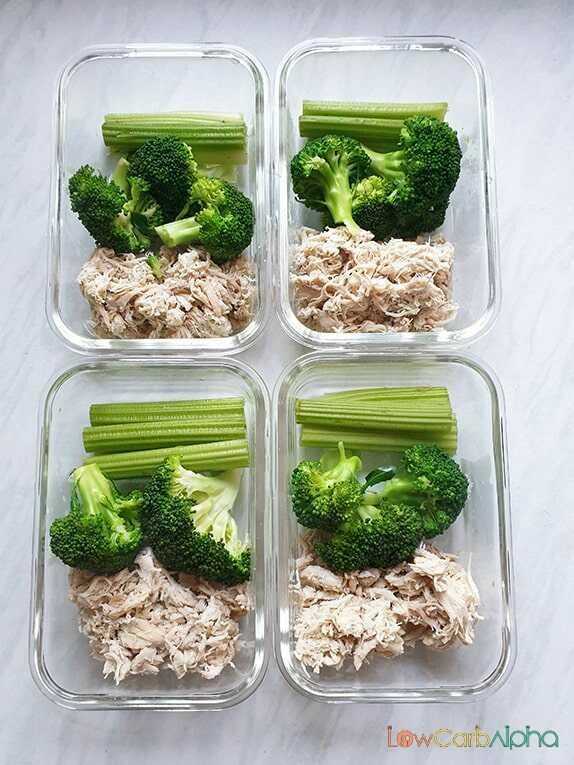 It's one of the easiest ways to stay on track and not be tempted to eating high carbs meals or snacking.
Using Fresh or Frozen Chicken
If using fresh chicken, then you can plop that right in, and it's ready to cook. However, if using frozen chicken, you will want to defrost it first before cooking.
As the slow cooker will bake the inside of the chicken very slowly, it will remain frozen and unthawed for much longer than the outside of the chicken leading to uneven cooking times.
How Long To Cook Crockpot Chicken?
All crockpots are different, and it's difficult to gauge exact cooking times.
I'm using an 8-liter slow cooker, and I'm preparing nearly 5 pounds of chicken, so I generally need to cook a little longer.
If using a smaller crockpot with less chicken, the cooking times may be considerably reduced.
Using larger chunks of chicken will take longer to cook than smaller pieces.
It would generally take 2-3 hours on a low heat and 4-6 hours on high heat, so you would need to check midway and adjust accordingly.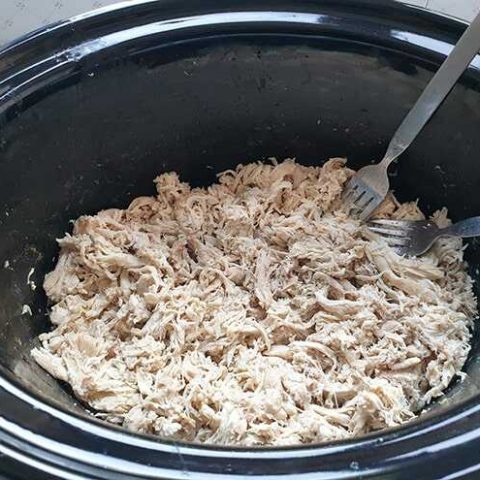 Keto Crockpot Shredded Chicken
Total Time:
3 hours
5 minutes
My favorite go-to meal when I require quality protein, healthy fats, and easy meal preparation. Tender, juicy shredded chicken to use for low carb lunches and dinners.
Ingredients
2kg or 4.4 pounds boneless skinless chicken thighs
1 cup of chicken stock
1 teaspoon salt
1 teaspoon pepper
4 cloves of garlic
1 teaspoon paprika
Instructions
Place the chicken thighs, seasonings, and chicken stock in the crockpot.
Cover and cook on high for 3 hours or low for 6 hours. Check midway to see the progress as all slow cookers cook differently.
Once the chicken is cooked and appears to pull apart easily, scoop out half of the stock with a ladle, then get a spatula or two forks and shred the chicken.
Enjoy immediately in numerous dishes (e.g., keto bread, salads, lettuce wraps,) use for meal prep, or freeze to use later.
Notes
If you make a large batch like I have done the cooked shredded chicken will last approximately 3-4 days in the refrigerator and at least 3 months in the freezer.

Nutrition Information:
Yield:

20
Serving Size:

1
Amount Per Serving:
Calories:

362
Total Fat:

20g
Saturated Fat:

5g
Trans Fat:

0g
Unsaturated Fat:

0g
Cholesterol:

122mg
Sodium:

301mg
Carbohydrates:

0g
Fiber:

0g
Sugar:

0g
Protein:

36.5g
Nutritional information is estimated.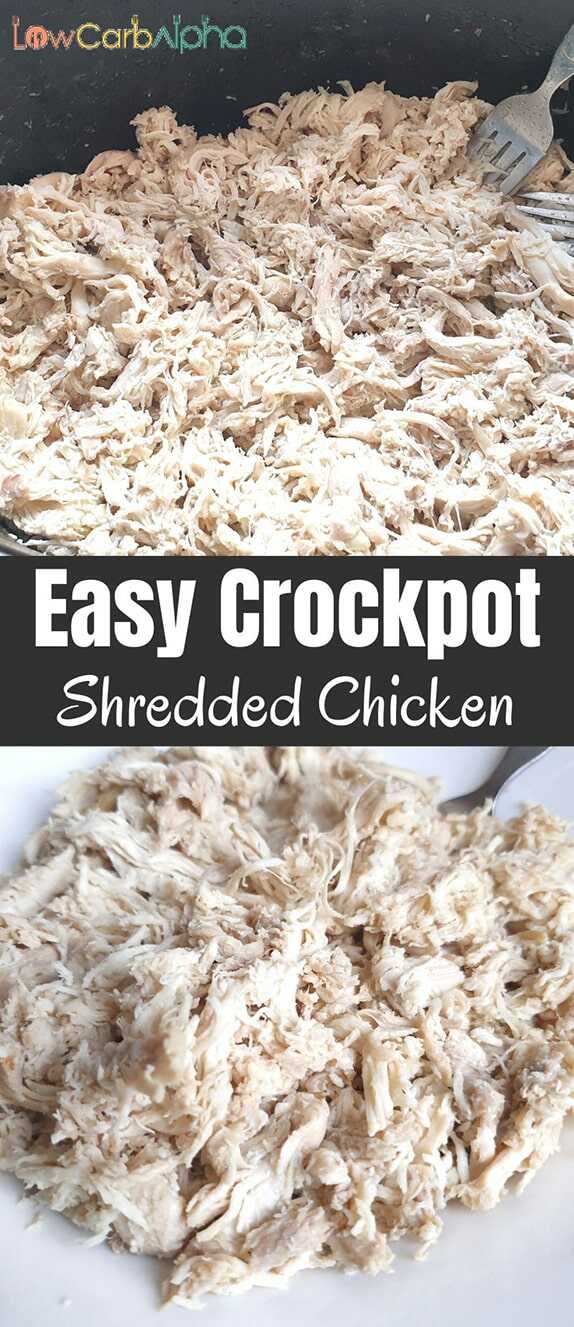 If your looking for more simple low carb meals check out our other keto recipes to help you increase your health.